A Day to Spread Kindness Throughout the Region
If you are a supporter of this organization, you know that December 5th is a special day. It was a day that changed my family's life forever. It was a memorable day filled with love, laughter, and life which taught my kids and me to love with all our hearts, laugh without abandon and live life to its fullest.
It was also the day that inspired this organization's founding. December 5th is our biggest day to give back. It is a day to say thanks and to show people everywhere what happens when people come together to make positive changes in their community.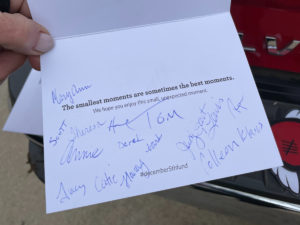 The idea is simple – make unexpected, small gestures for people all over your city on Sunday, December 5th, then hand out our notecards to the recipient(s), or leave it behind for them to find later. If you'd like, you can also add a personal note to each notecard.
Not sure what to do? Here are some ideas:
Pay for someone's coffee
Deliver food to your local firehouse
Give flowers to stranger
Leave a generous tip
Rake leaves or mow the grass for an elderly neighbor
Tell Us Your Kindness Plan
Commit that you will participate that day. Send us a private message on Facebook or let us know your plans for the day by sending us an email at info@december5th.org.
If possible, send us some photos of you spreading joy on December 5th.
Download and print this notecard to hand out when you do your good deed(s).
Promise to show love and goodwill. Kindness is what the day is all about.
With gratitude and kindness,
Tom